That Africa draws people to it is undeniable – every year hundreds of thousands of visitors from all over the world touch down somewhere on this astoundingly rich and diverse continent. For many it is for the holiday of a lifetime, a chance to immerse themselves in its primal landscapes; among ancient cultures and a diversity of life unmatched anywhere else. For some it is the start of a love affair with the continent and repeat visits throughout their lives. But for a few, Africa invades their being to the extent that living here and "making a difference" is the only possible outcome. One such person is American actress Shannon Elizabeth Fadal.
Shannon was born in Texas where she grew up before eventually moving to Los Angeles, California, to establish a successful acting career spanning more than 50 films and television shows, including the global hits American Pie and Scary Movie. But for nearly two years now she has been living in Cape Town, and I caught up with her at her home perched high on the slopes of Signal Hill with views out across Table Bay to Robben
Island and beyond. "I love the city and Africa more than ever," she says, the hint of a slow drawl betraying her southern roots, "and feel privileged to be making a contribution to the well being of the people and wildlife of this amazing continent."
By "making a contribution" she actually means rolling up her sleeves and getting stuck in. Under the umbrella of her Shannon Elizabeth Foundation she is not only raising funds for projects in Africa, but is very much hands on in choosing and then working together with her beneficiaries.
"It all started way back," says Shannon. "All my life I have cared about animals and their well being, and in 2001 I started a non-profit charity called Animal Avengers as a dog and cat rescue operation. It was both heartbreaking and heartwarming work saving, rehabilitating and re-homing strays and other city pets in need, but so worthwhile. And it remained the focus of my work with animals for more than a decade until I began to feel that I wanted to help more animals and on a much bigger scale."
For some while Shannon had been feeling the pull of Africa and in late 2014, as she started to become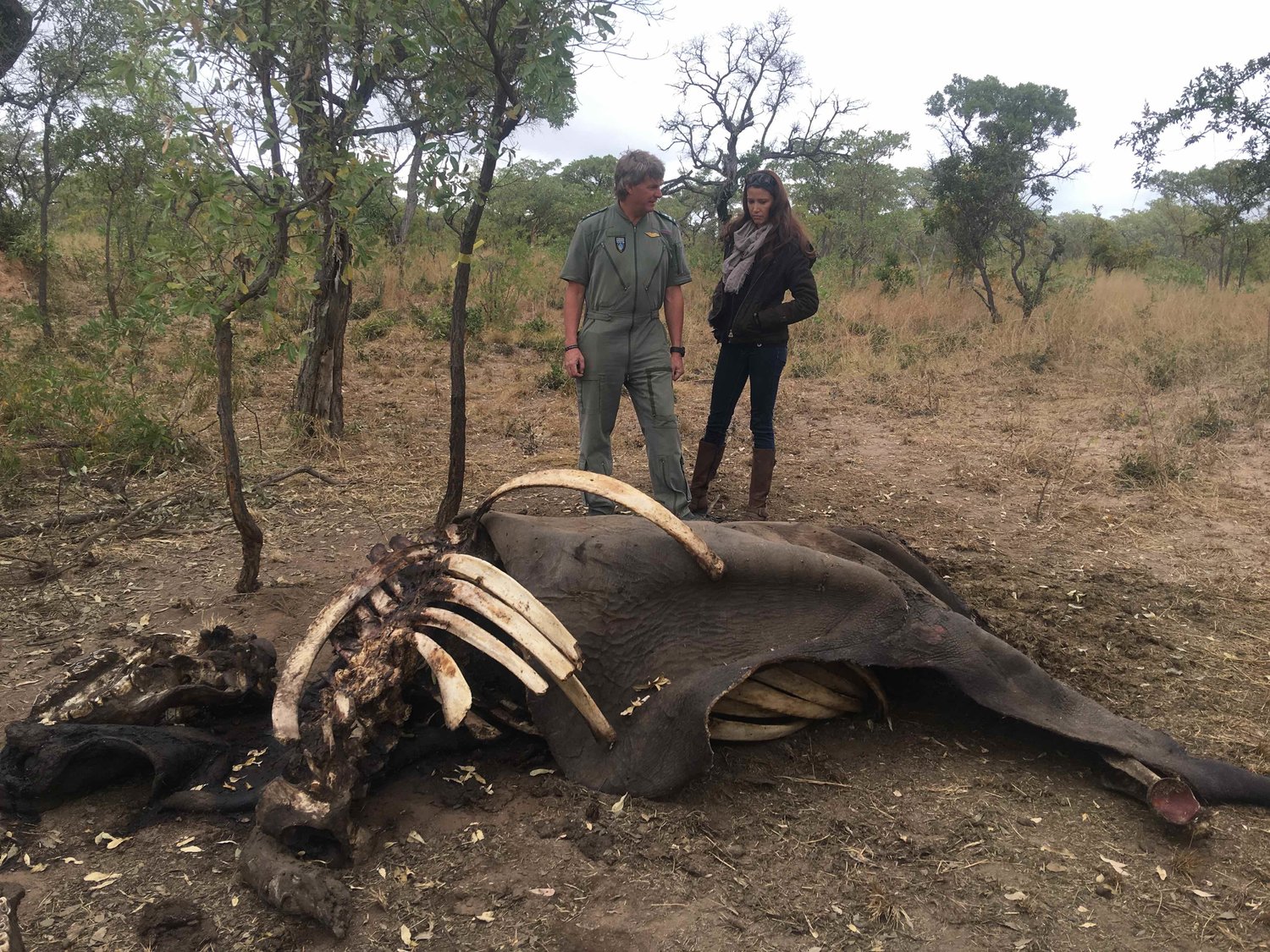 TOKKIE BOTES SHOWING SHANNON A POACHING CRIME SCENE IN SOUTH AFRICA. IMAGE: SHANNON ELIZABETH
increasingly aware of the wildlife poaching crisis and how the rapidly escalating illegal slaughter of animals such as elephants and rhinos had the potential to drive these and other magnificent creatures towards extinction, she felt that she could not just stand by any longer. "I was determined to get involved, personally, and to make a practical contribution. But to do so, and to do it right, I felt I had to come to Africa to learn first hand what was happening."
Based on the recommendations of a few friends, she chose three organizations and then, via Animal Avengers, crowdfunded for them. "This was the start of revamping my charity in the way I had imagined for so long. I made arrangements through local partners already on the ground in Africa, started planning what eventually became a two-month trip (which I paid for out of my own pocket), collected physical donations via an Amazon Wish List, and set off on my journey."
"I Was Determined To Get Involved, Personally, And To Make A Practical Contribution. But To Do So, And To Do It Right, I Felt I Had To Come To Africa To Learn First Hand What Was Happening."
Shannon arrived in Cape Town at the beginning of September 2015, celebrated her birthday with new friends, and then headed off to Zimbabwe on the first leg of her trip. Her first visit was to the Save African Rhino Foundation which supports a number of projects and groups. "It is run by a beautiful soul named Nicholas Duncan," says Shannon. "He took me to Hwange National Park to see how drought conditions were stressing the wildlife and how expensive the diesel motors used to pump water were to run."
AN ELEPHANT FAMILY AT A HWANGE WATERING HOLE. IMAGE: SHANNON ELIZABETH
Solar powered pumps seemed the obvious answer but it wasn't as simple as that since the solar pumps didn't alone have the capacity to pump the amount water needed for very thirsty animals. "So, together with the Friends of Hwange team on the ground – Dave Dell and his colleague Gary Cantle – we devised a compromise plan to place solar pumps next to the diesel pumps, which meant that solar power could be used during the day and that the expensive diesel power could take over after sunset."
The rainy season was on its way, so Dave made the decision not to start drilling for the solar pumps until after the rains ended. To tide them over Shannon's trust dug into their reserves and bought $5,000 worth of diesel to keep the pumps running.
In March 2016 the drilling for the additional solar pump began. The installation cost – $15,000. "There was one small snag," says Shannon, "In 2015 when I was holding my fundraiser I had a friend step up and ask to sponsor a solar pump in his name. He put in $10,000 because at the time we were told that would be the amount. Luckily we were able to pull an additional $5,000 from our reserves to make up the balance and help to make the pump happen. So now a solar pump in the name of donor Greg Polisseni has been installed in Hwange!"

SOLAR PUMP IN HWANGE NATIONAL PARK.
When Shannon was in Hwange, Gary told her about all of the animal rescues he'd had to do, such as pulling baby elephants from the mud. When water is scarce, elephants will go into the middle of a muddy waterhole searching for whatever drops they can find, but quite often the youngsters get stuck and Gary, an electrical engineer, has frequently had to double as an elephant rescuer. "I asked if he had managed to capture any of these rescues on camera, but he hadn't. He explained that he didn't have a camera or time to think in the act of helping a baby elephant out of the mud. We managed to get a new GoPro to Gary and he's since captured some incredible footage that we've been able to share with our supporters. Thank you, Gary!"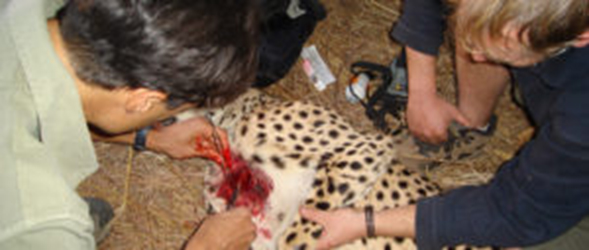 THE AWARE TEAM IN ACTION.
Next on the agenda was a visit to the AWARE Trust to find out from them how best we could use the $10,000 raised for them, and to hand over the many veterinary donations collected through Amazon. "I so admire the work they do." she says, "It is the only veterinary conservation trust in Zimbabwe, run by vets and focusing on the welfare of wildlife and the conservation of wildlife habitats."
Shannon soon discovered that what the AWARE vets desperately needed were couple of elephant tracking collars that would allow them to follow the elephants they have under treatment and to extend their research into their movements. "Let me tell you, these collars were not easy to get," Shannon recalls. "They had to be made by a company in Germany, then shipped along with all the appropriate approvals and permits needed along the way. It was a long road but the collars finally came in, were fitted and were soon feeding back valuable data."
DELIVERING BACKPACKS TO STUDENTS AT THE SOUTH AFRICAN WILDLIFE COLLEGE.
After a few other stop offs in Zimbabwe it was back to South Africa where Shannon's research took her, among other places, to the Mpumalanga Lowveld, home of the Kruger National Park. Here she delivered donated goods to students at the Southern African Wildlife College and to rangers in Kruger before heading off to the important big game bushveld region northeast of Pretoria where she was able to help wildlife vets with donations and equipment needed to offset the cost of operating on sick animals.
While in South Africa, Shannon met up with Dr Gerhard Steenkamp of Saving the Survivors to present him with the supplies and equipment collected via the Amazon Wish List. At the time Saving the Survivors had been trying to help Hope, a young rhino who had had her face mutilated by poachers who were after her horns. She was later able to join the Saving the Survivors team at one of Hope's surgeries, where she met Dr Johan Marais for the first time. Despite their best efforts, Hope finally succumbed.
Shannon is clearly still moved by the memory of Hope and her dreadful suffering, but also recounts  the happier outcome for another victim of a poaching attempt. "I learned that a six-year-old female white rhino in Pilanesberg National Park was in a bad way. She had been shot straight through her left front leg a few weeks earlier. Dr Marais operated on her with a great team of doctors and they had managed to fashion a cast for for her leg. Thankfully she survived the ordeal." It seemed appropriate that Shannon was able to purchase a fracture kit for the Saving the Survivors team with the $10,000 dollars that had been raised.

SAVING THE SURVIVORS – A SUCCESSFUL OPERATION IN PILANSBERG TO FASHION A CASK FOR A FRACTURED LEG. IMAHE: PERRY DELL
"Then, with great reluctance, I was on my way back to the US via Cape Town," Shannon sighed. "Back in the States, I was delighted and honoured to learn that the young rhino in Pilansberg had been named 'Shannon" after me."