In 2015, American actress, Shannon Elizabeth Fadal, had made a whirlwind visit to Zimbabwe and South Africa to hand over donations raised in the US for projects here in Africa. Her mission was twofold, however, as just as important to her was to be in Africa to learn first hand about how she could make a meaningful, practical contribution to conservation efforts, especially regarding the havoc wrought by the poaching crisis. Personal and professional commitments had taken her back to New York, then her home, but it wasn't long before she was back in Africa.
Shannon picks up the story: "In April of 2016 I flew to Kenya first to witness the ivory and rhino horn burn in Nairobi and then to travel around to some of the most prominent conservation areas, meeting as many people as possible in the field before heading back to South Africa, this time to spend much of my time in the KwaZulu Natal area and Kruger National Park."
SHANNON WITH JANA PRETORIUS AT THE RHINO PRIDE FOUNDATION
Then it was off to Malawi where Shannon joined the first week of African Park's hugely ambitious and successful translocation of 500 elephants by road from Liwonde National Park to Nkhotakota Wildlife Reserve some 300 kilometres away. "It was an unbelievable experience," she recalls, "extremely emotional and physically taxing. It's not an easy feat to relocate elephants. The expenses are high, while the preparation and execution is a science. This was the largest and most significant translocation of elephants in history and I knew I was experiencing something truly special."
"This was the largest and most significant translocation of elephants in history and I knew I was experiencing something truly special."
Shannon then returned to the US, but this time her time on the other side of the Atlantic was very short. "I had seen enough to know that I wanted to live in Africa full time, not as some vague wish for the future, but now," she remarks emphatically. "So I put all my stuff into storage and started preparations to move, with my beloved dog Peanut, to settle in Cape Town on the other side of the world. By the end of November 2016, I was calling Africa home."
WORKING WITH THE RHINO PRIDE FOUNDATION …
Already support for two major rhino initiatives in South Africa is well under way. The first is the Rhino Pride Foundation which came into being in 2015 after the founder, Dr Jana Pretorius, realized that there was a great need to provide a physical sanctuary for rhinos under threat and to have measures in place that not only feature hi-tech early warning systems for protection, but also include rapid response to poaching events to ensure that orphans get veterinary help as soon as possible.
WITH FOUNDER JANA PRETORIUS AT THE RHINO PRIDE FOUNDATION.
"I first met Jana in 2015 and we immediately connected," says Shannon. "Initially we had been able to help her with donations of veterinary supplies, and during 2016 I helped the foundation auction off a donated sculpture which brought in some much needed funds."
"After Much Back And Forth We Decided That We Would Pay For The Security Services At The Sanctuary Which We Were Able To Do From November 2017 Through March 2018."
Then, in late 2017, Shannon got a call from Jana to say that the sanctuary needed help. "Currently RPF is home to over 50 rhino and it's imperative we keep those angels safe and sound," she explains. "After much back and forth we decided that we would pay for the security services at the sanctuary which we were able to do from November 2017 through March 2018. We continue to evaluate ways we can help Jana and make an impact.
SHANNON WITH LIZZIE.
"I have met with the owner of Rhino Pride's security team and their anti-poaching team is second to none. We were also able to purchase 2-way radios for the them, but they always need help with keeping their rangers well kitted and cared for, so if any readers can help in any way, please have a look at their wish list."
Shannon would also like to do a lifetime adoption of one of Jana's rhinos called Lizzie. "Lizzie was rescued just a couple of days before I first met Jana, so she decided to name her after the Elizabeth in my name. I was so excited to have a second rhino named after me."You'll never meet a more loving, gentle rhino in your life than Lizzie is a true angel on Earth. We'd like nothing more than to care for her and make her our beautiful rhino representative and inspiration!"
… AND WITH FLYING FOR FREEDOM
The second ongoing beneficiary is Flying for Freedom South Africa, founded by pilot Tokkie Botes. Tokkie has sponsored more than 950 hours of flying his helicopter to aid the police in poaching crime scene investigations, flying vets to emergency surgeries, and assisting with critical calls from farm owners and anti-poaching units to respond rapidly to property incursions. He is currently the only private pilot to be cleared by the South African government to fly throughout Kruger National Park and to assist with such operations. Pilot Tokkie Botes on a mission for rhinos.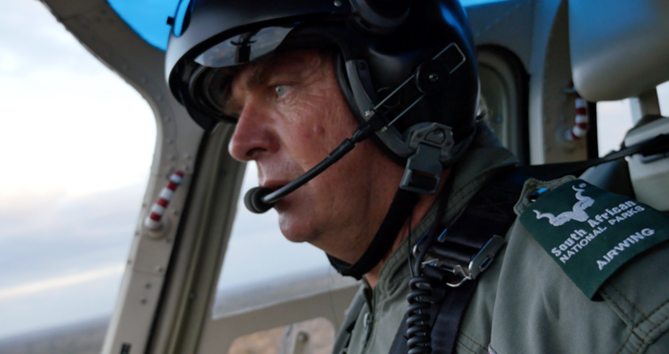 PILOT TOKKIE BOTES ON A MISSION FOR RHINOS
"In May last year (2016) we were able to honour Tokkie in New York and to raise funds for two pairs of hi-tech goggles that allow him to continue his invaluable work, specifically at night." says Shannon. "Rhino 911 were great in helping to facilitate the purchase as well as the import of the equipment. And we were also able to buy Tokkie a second, fully equipped helmet, as a co-pilot is always required to fly on night missions."
IN NEW YORK FOR THE FLYING FOR FREEDOM FUNDRAISING BENEFIT.
To keep Tokkie flying costs about $12,000 in fuel and maintenances a month, and Shannon's foundation would like to help towards this, and appeals to other businesses or donors to join in, or perhaps match the foundation's contributions. (Tokkie has even offered to carry the logos of any business supporting the cause on his helicopter for a time. So again, if this is of interest to any reader, please contact info@shannonelizabeth.org to learn more or to help.)
 BROADENING HORIZONS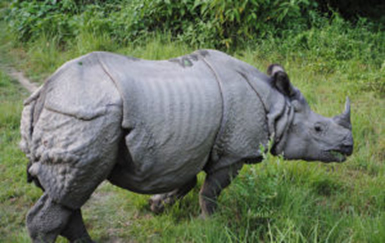 THE INTERACTIVE RHINO REVIEW WHICH INCLUDES ALL FIVE LIVING SPECIES IN AFRICA AND ASIA, WILL BE OUT LATER IN THE YEAR. IMAGE: WIKIMEDIA COMMONS / KRISH DULAL
By now, Shannon's Animal Avengers foundation, started way back in 2001, had broadened considerably and towards the end of 2017 she became involved with an initiative to produce a series of visually rich, dynamic and interactive websites on critical wildlife subjects. This gained impetus throughout 2018 and the first project – Rhino Review – a comprehensive overview addressing the situation of rhinos in Africa and Asia, is to be launched late 2018.
She comments: "In view of these developments and the widening remit of our work, we took the decision to rebrand Animal Avengers to The Shannon Elizabeth Foundation. The Animal Avengers brand is well-known and respected in the US and we will retain it as the focus of initiatives engaging younger people. One of the most important things to do in conservation is to make sure that the youth everywhere are informed and ready to take on the challenge of championing wildlife and wild places."
This is the second of a two part feature on Shannon and her work in Africa. You can read Part One here.